So, the children were told that their job this morning was to go out in the back yard and pick up sticks in anticipation of the great mowening. My folks have a couple older maples that enjoy dropping random blade-breakers at random intervals, and it's always a good idea to clear the area immediately before mowing. We recently acquired a new mower, a
"Zero Turn" Toro
: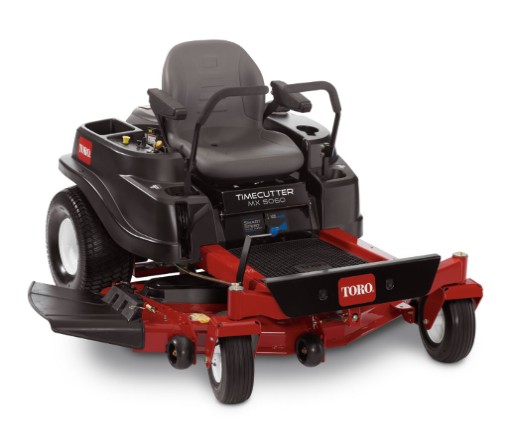 It takes a little getting used to in navigation, but it's a treat to not have to swing wide around corners. This one also has a bagger, which increases the time needed to mow, but decreases the overall time needed for lawn maintenance, as there's no raking afterwards.
The problem, though, is that with the new mower - especially the bagger - sticks are the enemy. Hence, the children were dispatched to pick up "ALL" the sticks. I ran the push mower around the edges yesterday, and noticed a rather large number of fallen sticks around the two big trees in my folks' back yard. They were sent out with the admonition to pick up "all the sticks", and - as kids are wont to do - were back in the house inside of eight seconds.
Um, no.
I sent them both back out, and five minutes later Baby Girl G. comes in. A minute or so later, her brother waltzes in behind her.
"Did you pick up the sticks around the big tree?"
"Um. I wasn't in charge of that. [Baby Girl G.] was."
"I didn't put someone in charge of areas. I just want the sticks picked up. Go. Do."
Much grumbling and muttering ensued, and I expect that there will be quite a bit of sticks I'll have to stop and pick up - which means that next time, TheBoy is going to learn how to run the pushmower. He's 12, right on the edge of being able to take over lawn care duties - and if it wasn't for a friend in elementary school who lost three toes to a lawnmower when we were in sixth grade, I'd already have him doing it.
One of the milestones, one that seems to be increasingly lost, is helping out around the house. With more and more kids getting everything they ever ask for from their folks, there's little incentive to go out and work for money - we've run into this with sitters. Finding someone to watch the kids was a chore - because no one seemed willing to actually work for money. It's been the same story with my father in law and finding someone to shovel his walk - there's just no one out there willing to do it.
It's a sad reflection on our society; one that can be seen in the increasing dependence on welfare as well. Why bother with manual labor when you can collect a check from the government for the same amount? Why put yourself out, when getting a handout is so much easier? You can see the beginnings of the entitlement mentality - but they're kids, it's expected. It surprises and saddens me that so many parents are willing to foster this mindset, though - when I was growing up, if I wanted money, Dad would point to the yards in the neighborhood and tell me to ask the neighbors if they wanted their lawns mowed.
To say nothing of learning the value of a dollar - I've seen TheBoy's friends think nothing of dropping their iPods or leaving their electronics-laden backpacks unattended. Why should they care if their iPod gets broken or their Playstation Vita gets stolen? Mom and Dad will just buy a new one. I've seen this same mindset creeping in with my kids, and let them know in no uncertain terms that if something they own gets broken, lost, or stolen because of their carelessness, they don't get any mulligans. You wait until Christmas or your birthday for a replacement, and it will be the only gift you get.
I think they're getting it. TheBoy has has an iPod touch for a couple years now - and the screen is still intact. BabyGirl G. has lost countless chargers, but her iPod Nano still works and is in the same place every time. They're getting the point that Mom and Dad are not just ATM machines, and that if they really want something outside of a birthday or Christmas present, they need to earn it, either by busting their butts around the house or earning good grades in school. Yes, we bribe for "A"s. Don't judge. :)
Besides, I've already told the kids that I agree with Homer: "When you're 18, you're out the door!"...
That is all.